Congratulations to our SCSA Award Winners!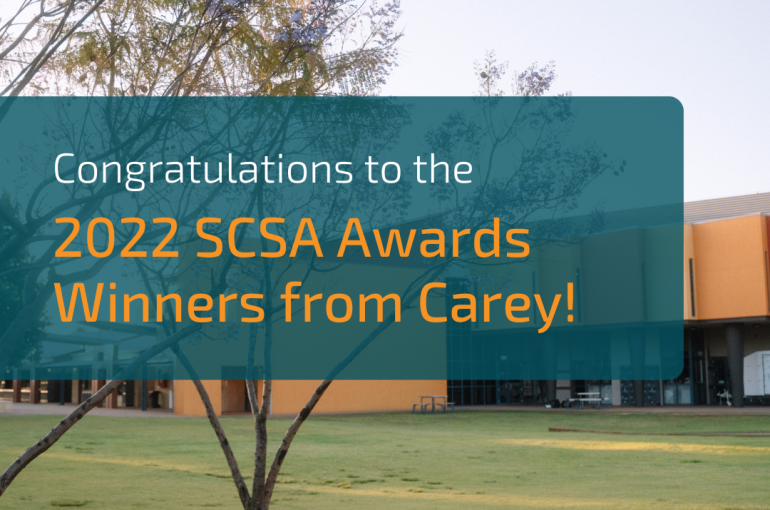 A number of students from the Class of 2022 have had their hard work and dedication recognised by the School Curriculum and Standards Authority (SCSA), acknowledging their excellent academic results.
Three students received Subject Certificates of Excellence, awarded to students in the top 0.5% of candidates in each ATAR examination. Congratulations to Taylah Gibbs and Darshanna Prabhakaran for English and Matteo Cascioli for Maths Applications. Two students (Lianna Paisley and Geo Vazhalanickal) received Certificates of Distinction and fourteen students received Certificates of Merit.
We are also pleased to share that Carey was in the Top 15% of all students for English this year.
Congratulations to all our SCSA Award Recipients on their outstanding achievements. We are very proud of all our Year 12 students and wish them all the best as they embark on their next chapter!
Winners of SCSA Subject Certificate of Excellence
Taylah Gibbs – English
Darshanna Prabhakaran – English
Matteo Cascioli – Maths Applications
A Subject Certificate of Excellence is awarded to eligible candidates who are in the top 0.5 per cent of candidates in each ATAR course examination set by the Authority, based on the examination score, or the top two candidates (whichever is the greater) in a course where at least 100 candidates sit the ATAR course examination.
Winners of SCSA Certificates of Distinction
Lianna Paisley
Geo Vazhalanickal
Winners of SCSA Certificates of Merit
Hanin Abdelnaby
Sarah Benny
Mhairi Doherty
Kristel East
Zoe Fenner
Taylah Gibbs
Abbey Lindsell
Paarthvi Marfatia
Matthew McKenzie
Hannah Miles
Madison Murphy
Emily O'Brien
Darshanna Prabhakaran
Dominic Silvestri
Certificates of Merit and Certificates of Distinction recognise student achievement in the WACE and are dependent on the degree of difficulty of the courses and programs undertaken, together with the student's level of achievement. These awards are based on the grades awarded to students by their schools. 
A Certificate of Merit or a Certificate of Distinction is awarded to each eligible student who, in their last three consecutive years of senior secondary school WACE enrolment, accumulates: 
150–189 points = a Certificate of Merit
190–200 points = a Certificate of Distinction.