From the Principal
Since our commencement in 2016, it has been exciting to see the establishment of a strong community at our school.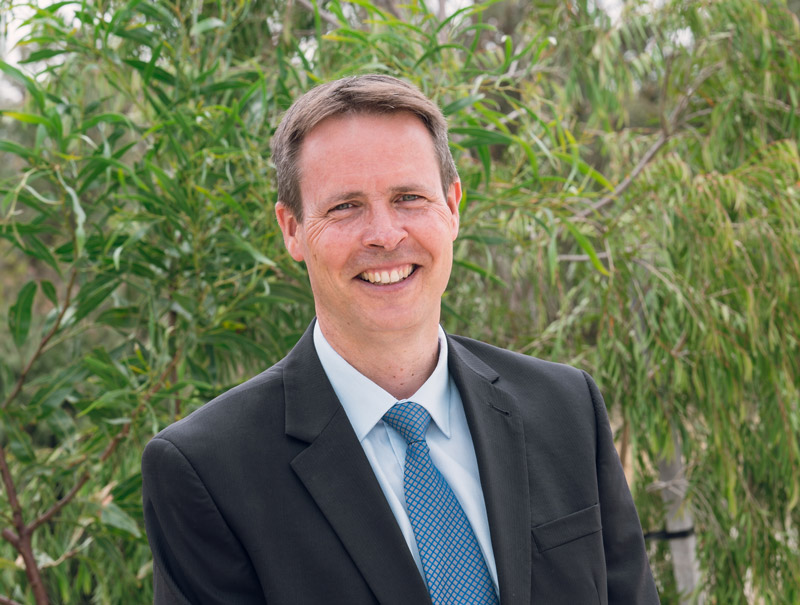 Carey Forrestdale has benefited significantly from the years of experience garnered through our journey at the Harrisdale Campus. Much of the richness of this experience has been brought to bear in the planning, building and running of Carey Forrestdale.
This year we have introduced Year 10 to our Secondary School and we will continue to grow each year to eventually offer Kindergarten to Year 12 by 2024.
Guided by passionate and skilled Carey educators who facilitate an extensive curriculum offering, students are encouraged to explore their God-given talents and unique strengths.
Our desire is for you and your family to be an integral part of this new community as we partner to focus on the holistic needs of the young lives that we are shaping towards a fulfilling future.
We believe that every encounter is an opportunity and we encourage parents to be a part of our community throughout and beyond your child's years of learning at Carey Forrestdale.
Together, we can attempt the extraordinary.
Mr Nigel Wise
Principal
Parent Documents and Calendar
Carey will continue to provide a curriculum that can meet the needs of all students. We offer a balance within a Christian-based approach to all areas of the curriculum, enabling students to demonstrate mastery in the major learning areas. We give instruction and assessment consistent with the requirements of the Western Australian Curriculum as directed by School Curriculum and Standards Authority (SCSA).
The Middle Years (Year 7 to 10) of Secondary School are about developing competence and mastery in the core curriculum areas of Mathematics, English, Science and the Humanities. Students develop a breadth of experience and competence by exploring elective subjects that can lead to higher levels of expertise and enjoyment of learning.
The Senior Years (Year 11 and 12) of Secondary Years focus on creating graduation pathways that are suited to the individual skills and interests of each student and importantly are about establishing secure pathways into University or the Vocational and Training sector. Our Forrestdale Campus will welcome Year 11 students in 2023, followed by Year 11 and 12 students from 2024.
Outdoor Learning
We believe in the value of immersing young people in the natural world, which is why outdoor learning plays an integral role in our curriculum. We give children opportunities to learn in nature; a rich outward experience for inward growth. Our campus is in a bush setting, with wetlands and bush areas intentionally retained to provide high quality, on-site outdoor classrooms. The landscape that surrounds us provides unlimited opportunities for academic, personal, community, and spiritual growth. Experiential learning provides rich, real-world experiences, facilitated by passionate and skilled educators who promote a lifestyle of continued learning from child to adulthood. As of 2021, we now offer both Horticulture and Permaculture as electives for our Secondary students who wish to dive deeper into their learning and relationship with nature.
Technology
All students use technology on a daily basis, gaining important skills and learning how to navigate the digital world. Secondary students begin using a device in Year 7, provided by the College on a rental basis, to ensure a robust curriculum offering and efficient learning for the various core curriculum subjects and electives.
Extension & Streaming
Students will be streamed in various forms throughout Secondary School to match them with other students of similar ability and to challenge them to expand their learning. Students may be invited to alternate classrooms to provide additional opportunities for learning. At other times students may stay within their normal classroom setting but be offered differentiation in their learning by their teacher.
Parent and Student Handbooks
Pastoral Care
Our Pastoral Care Team and educators work together for the wellbeing of students throughout their journey in Secondary School. Positive, healthy relationships assist our students to effectively navigate the challenges of adolescence and help them to thrive in the school environment.
Our Behaviour Code is founded on our core-College values and healthy behaviour is expected, taught and affirmed. Our dedicated Psychologist and Chaplain partner with Carey educators and Leadership to ensure a safe and caring environment.
At Carey, Pastoral Care is based on our core belief that we are all made in the image of God. Our approach to Pastoral Care reflects our commitment for every student to grow, develop and achieve their potential. Our systems are framed with this commitment, reflected by high expectations in learning and behaviour. We expect our students to strive for excellence in their achievement and also encourage and enable others to do the same.
The Chaplain plays a key role in our Secondary Pastoral Care team, coming alongside students when there are social, emotional or spiritual challenges.
Christian Education
Consistent with our vision and mission, the College views Christian Education as a key foundation in our curriculum.
At Carey, we recognise and respect that developmentally, students are exploring, questioning and deciding much of their worldview. We believe in offering opportunities for wise inquiry and authentic experience towards the transforming love of God and this cannot be forced. We believe in the importance of values and ethics and for this reason, have developed a Beliefs and Values studies course that is age-appropriate for each year group. Our students learn how religious experience has consequently shaped the human experience and begin to see the significance of service.
Additionally, Christian values and faith permeate our teaching methodology and College culture. Our Christian educators may include prayers or Christian reference within the classroom, our College Assemblies reflect and honour God and our Chaplain offers relevant courses to students that connect our students with the Bible.
We've been intentional in building a college community that not only focuses on academic achievement, but social connections, sporting and creative programs, and strong community networks.
The Arts
Highly respected Arts and Music programs.
Instrumental Music Tuition from Pre-Primary onwards.
Sport
Inter-school sporting competitions for Years 5 and above.
Co-curricular sport options, according to student interest.
Camps and Events
Regular excursions and incursions.
Camps for students in Year 5 to Year 10.
Annual Christmas Concert.
Focus on different calendar events such as Mental Health Week, R U OK Day, Harmony Day, Anzac Day and Book Week.
Regular Secondary School assemblies.
Learning
Curriculum Support and Enrichment Programs.
Regular assessment and reporting to parents on student progress.
Specialist teachers in Art, Music, Languages and Physical Education.
Sustainability and care for our world taught through our Community Vegetable Gardens and horticultural program.
Developing focus on STEAM (science, technology, engineering, arts and mathematics).
Access to devices such as Chromebooks and iPads. All classrooms are equipped with an interactive e-board or Apple TV.
Lunchtime Activity Groups at select times of the year: Chess, Lego, Gravitrax, Art and Writing Club.
Support
Active partnerships with parents.
On-site Chaplain offering renowned courses for a child's social, emotional and spiritual development.
Values-based school culture.
Strong pastoral care emphasis with high behaviour standards.
Celebrate cultural diversity.
Our educators are invested in developing inclusive strategies for all students based on the positive partnership model.
Year 7 Orientation
Your child becomes an integral part of the Secondary School community as they begin Year 7 at Carey. Our Orientation Day gives all students an informal start to school while they are in Year 6. We place an emphasis on building relationships and familiarity with staff and students — while having fun!
Carey educators and Pastoral Care staff journey with Year 7 students, and Pastoral Care Programs are in place for extra support.
There are plenty of opportunities available for students to explore hidden talents through our range of Electives and Co-Curricular activities. Students also attend a Year 7 Camp, which focuses on building relationships with peers by encouraging inclusivity and participation.
Workplace Learning Program
Carey Baptist College offers Workplace Learning as an Authority-Developed Endorsed Program. All General and Vocational Education Training students in Years 11 and 12 complete Workplace Learning as part of their studies. Workplace Learning consists of an application, safety, interview and induction process. Students then take part in practical, on-site placements which run for two weeks during Term 2. Year 10 students also access Workplace Learning Program towards the end of Term 4.
Workplace Learning provides students with the opportunity to explore their curiosity and future career prospects.
In 2022, Seven Year 10 students successfully gained casual Employment and 2 students gained a student-based apprenticeship/traineeship as a result of the Workplace Learning Program. Further insights from our year 10's revealed that 65% of our students' placements confirmed their desire to work in a particular industry.