Carey bids farewell to Mr Morgan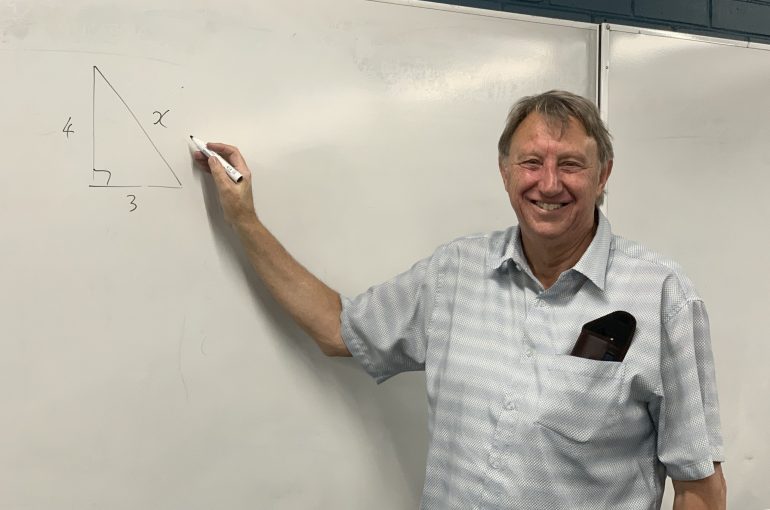 The last day of term marked the end of an era within our Secondary School when much-loved Maths teacher Mr Gary Morgan finished teaching. 
Mr Morgan is retiring after 41 years of teaching, 21 of which have been at Carey. We sat down with Mr Morgan and asked a few questions about his teaching career and some of the highlights of his time at Carey. 
To use one of his sayings, Mr Morgan's enthusiasm for maths started 'way back when Jesus was full-back for Jerusalem.'
"I loved my high school maths teacher and my favourite time of the week was Friday morning when we had two double periods of Maths – from 9 am through to lunchtime."
After he graduated from university his first teaching role was at Narrogin Senior High School. 
"I was newly married and off to the country, where all graduates started out. 
"I really enjoyed the Narrogin community and it was a great opportunity to teach Year 11 and 12's in what was known as TEE Maths 2-3.
"The facilities were quite basic in those days. There was one 64K computer in the whole school and because I had studied computing it became my baby!"
Mr Morgan was a keen member of the local repertory club, performing in various musicals and plays including Oliver the Musical. This was his foray into playing the character of Mr Brownlow, a role he also played in Carey's production earlier this year. 
Mr Morgan taught at Narrogin for 7 years, before moving back to Perth in 1997 where he began teaching in Christian schools, then started at Carey in 2001. 
"When I came to Carey, it was the first year they had Year 11. The entire Maths Department was Mrs Karasavas, Mrs Rameriz and I. 
"In the early days, there was nothing here. I remember thinking 'What are they doing putting a school here?' 
He remembers the first graduation and forever etched in his memory is the scene of Principal Mr Mitchell leaping off the stage and onto a trampoline! 
In addition to his Maths role, Mr Morgan was a Year Manager for nine years and has many highlights from the camps and outdoor activities he was involved in. 
"I was horrible at abseiling. I remember flipping over and was hanging upside down like a teabag!
"I remember taking a group of Year 11 kids canoeing down in Dwellingup and we were out on the river when these other kids suddenly appeared out of the bush and started flour bombing us. Would you believe it was all led by Mr Gifford – our future Principal was the chief perpetrator!"
He also has fond memories of camping and cycling with the Year 12's at Rottnest.  
"On one of the camps, we stayed in tents, instead of staying at the barracks. In the middle of the night, we heard screams from the girls about quokkas being in the tent!
"We did lots of cycling and I was always the tail-end Charlie. We had the gung-ho students who would outstrip the teachers, but I was at the back with those who were still working the bike out. We didn't get around the island quickly but we had some great conversations!"
Mr Morgan is known for his quirky sense of humour and for the enthusiasm he brings to every Maths class. 
The 'Morgan seal of approval' will long be remembered by students plus a few colloquialisms that are now part of the Carey vernacular.
Mr Morgan is always quoting the space-time continuum and students know his favourite numbers are 42 from 'Hitchhiker's Guide to the Galaxy' and 28 because of our native parrots.
Without a doubt, his highlight this year was being involved in Oliver, the school musical.
"It was fantastic putting on this wonderful show as a community. We really got to know everyone involved and had great fun," he said. 
Principal Mr Gifford said Mr Morgan has been an iconic teacher, well known for his passion for Maths, his love of dancing, school musicals and his positive approach to life. 
"Mr Morgan is an 'old school' teacher who has adapted through generations of change and is leaving the classroom as a much-loved teacher and colleague, with energy and enthusiasm undiminished. Ready for an ongoing life of service and commitment to the community." 
When asked about his retirement plans, Mr Morgan said he's planning to do some voluntary work and would like to go on some more cruises with his wife whenever that's possible. He also shared a story that has inspired his outlook on the future. 
"I encountered my old Pastor a couple of years after he retired – I was still a young bloke then. I asked him what he was doing with himself. In his broad Scottish accent he said 'Och, I'm still aboot the Lord's Worrk'. 
"That's my mantra too. I'm trusting that with God, the future is an adventure – I can hardly wait!"