Stars 'n' Stripes Grand Championships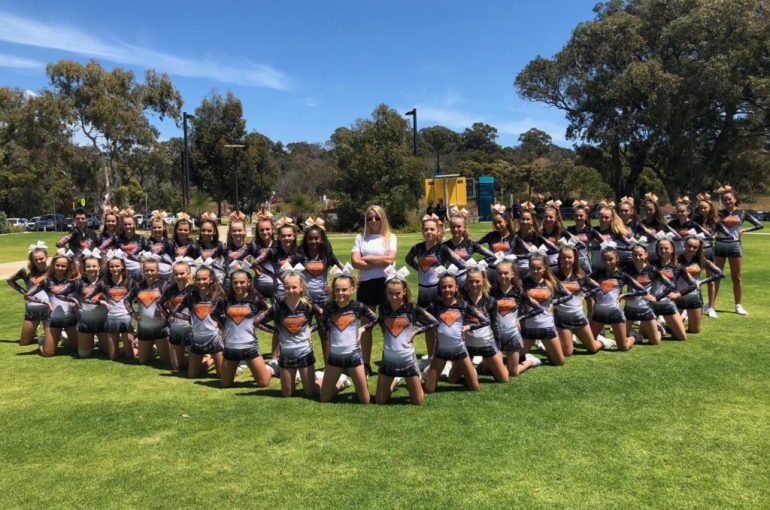 On 3 and 4 November, 90 Carey students competed in the State Championships at HBF Stadium. Eleven teams from Years 7 to 12 took part in the cheerleading and dance competitions.
Our teams had already progressed through two other competitions to reach the grand final which is an incredible achievement – considering they only train for one hour per week!
"This is a truly inclusive activity for all teams involved, as it crosses over year groups and is based on ability levels, not ages," Amy Taylor, Director of Cheer, said.
"They have become like a family, developing friendships and a sense of teamwork and encouragement that they may not have found elsewhere."
It's not just the students who get involved but also the parents are a cheer squad in themselves, with over 70 parents coming along to support the students. Staff members Amanda Rushby, April McElroy, Rebecca Bennett and Principal Brenden Gifford all helped to make this event a huge success.
Our teams had an amazing time competing, but also achieved some great results!
Dance Section
Year 7 'Crystals' – Second Place (Pom and Lyrical)
Year 8 'Diamonds' – First Place (Pom and Lyrical)
Year 9 and 10 'Titanium' – First Place (Pom) and Second Place (Lyrical)
Year 11 and 12 'Gold' – First Place (Pom and Lyrical)
Cheer Section
Year 7 'Crystals' – Second Place
Year 8 'Topaz' – First Place
Year 9 to 12 'Platinum' – Third Place
Carey also received a special award in the Dance Competition for the most professional, best costumes, performance quality and routines; which is something we have never received before. 'Star' awards were presented to students Kombo Mataruse from Year 8 for Cheer and Rylee Sumastra from Year 9 for Dance.
Next year, 42 students will be travelling overseas to compete in the 'Future International Cheer' competition in Bournemouth, England. This is the biggest international cheer competition in Europe and they had to audition via video in order to qualify. They will also have the opportunity to dance at Pineapple Dance Studios in London and Disneyland in Paris. This will be a wonderful opportunity, especially as many of them have never travelled overseas before. We are sure they will have a great time and represent Carey well.