Down South X-Over Trip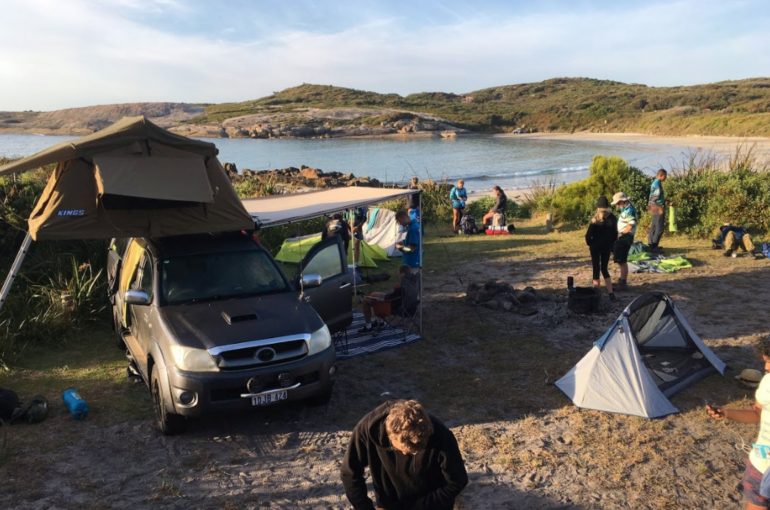 Some of our Carey Harrisdale students recently participated in a trip down south as part of our Year 10 X-Over (Crossover) Program. This particular program took place in two locations: a property in Nowanup and on the Bibbulmum Track around Peaceful Bay.
Nowanup is a 750 hectare property situated within the 1000km Gondwana Link project, roughly 150km north-east of Albany. Fourteen years ago, Noongar Elder Eugene Eades began restoring and caring for the land which had been cleared for Western-style farming. He now welcomes Noongar people and Wadjellas onto the land to experience something of Noongar history, culture, language and land care. In fact, all students at Curtin University can participate in a week-long intensive unit at Nowanup. Our students had a taste of this over the days they spent there.
Our students learnt a song in Noongar language, created a skin balm from granite myrtle plants they harvested with Jasper Trendall, sourced the materials to make paintings with Jesse from Balingup, and helped create a wilderness walking trail on the property with Dave McNamara, the man who built the trail up Bluff Knoll.
The evenings were spent around the fire, listening to Eugene tell stories about his life as a 'mission kid', and how he got into boxing to enable him to give money to younger mission kids. Students got into the rhythm of listening to each other's reflections on the day, as well as singing along with Eugene and his guitar. It was a richly rewarding experience of 'crossing over' into another culture to listen and learn.
From Nowanup, the students headed via Albany to Peaceful Bay, where they were based for a series of challenging hikes. Over three days, they hiked 55km, including many hills, sandy patches and of course, spectacular views of the rugged coastline. From Conspicuous Cliff through the Boat Harbour, the students encountered hawks, kangaroos, emus, flies galore, with many memories made along the way.
One student said, "I just wanted to say a massive thank you for the week I have experienced. Looking back at it now I have been able to realise how life-changing it has been, especially for me. During the hike, I think we all wanted to quit but the end results made the pain worth it. It has to be mentally and physically the hardest thing I have ever done."
This exemplifies the kind of grit and courage we celebrate at Carey, and it will stand the students in good stead as they head into the challenges of Year 11 in the new year.
The program involved eighteen Year 10 participants, five older student junior leaders, one Carey past student who graduated six years ago, and five deeply satisfied and committed teachers. A similar program is planned to be offered to the Year 10 2020 students.
Well done to our students who participated and thank you to our staff members for organising such a fantastic trip.