Journey to Meekatharra: Carey Right Track Foundation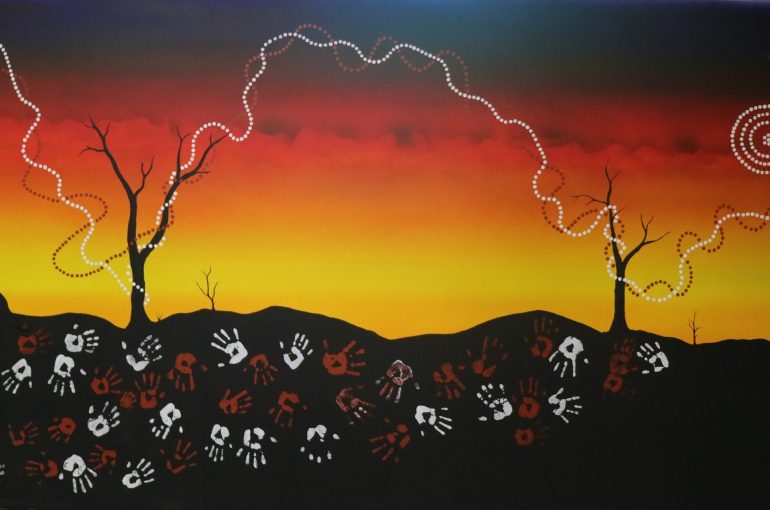 The Carey Right Track Foundation works to empower indigenous, rural and remote communities through athletics. Secondary Teacher Graeme Watson is the CEO of Carey Right Track. Together with a team of passionate volunteers, he's been partnering with the Meekatharra community for over eight years to deliver athletics programs.
Mr Watson shared the story about the amazing painting featured above and highlights from the most recent trip to Meekatharra in the April school holidays.
"The painting was done on the Meekatharra Youth Centre wall by Meekatharra artists Andrew and Robert Binsiar and the town's youth with support from Carey Right Track Foundation volunteers and students.
The painting tells the story of the relationship between Carey Right Track Foundation and the Meekatharra community. The landscape and sunset show the natural beauty of the remote, harsh environment. The white (Carey Right Track) and ochre (Meekatharra Community) dots show the journey and coming together at the meeting place.
The handprints were done by the Right Track volunteers and the Meekatharra community. The combined white and ochre prints by community leader Ando and Carey Right Track CEO Graeme Watson represent working together with mutual respect to provide purpose and opportunities for young people."
Meekatharra School Holiday Trip 
Over the April school holidays, staff and students from Carey, in partnership with Carey Right Track Foundation, travelled to Meekatharra to support the Meekatharra Youth Services team in running school holiday programs.
After enduring the 9-hour bus ride, the team set up swags in the Recreation Centre before heading to the Youth Centre to play basketball and get to know the young people of Meekatharra and the surrounding areas.
Over the next three days, they enjoyed running and kicking footies, doing art and cooking food, watching footy and playing cards with many rounds of Exploding Kittens.
During the afternoons and evenings, we spent time at the Youth Centre and the Recreation Centre playing basketball, indoor cricket, football and athletics games.
The team did an incredible job representing the College and all agreed the best thing about the trip was making friends with the young people from Meekatharra and my daughter Sarai's cookies!
We're excited to be able to host Meekatharra school students and staff at the end of this term during our annual X-Over program.
– Mr Graeme Watson | CEO of Carey Right Track Foundation