Alumni Drive Through Wedding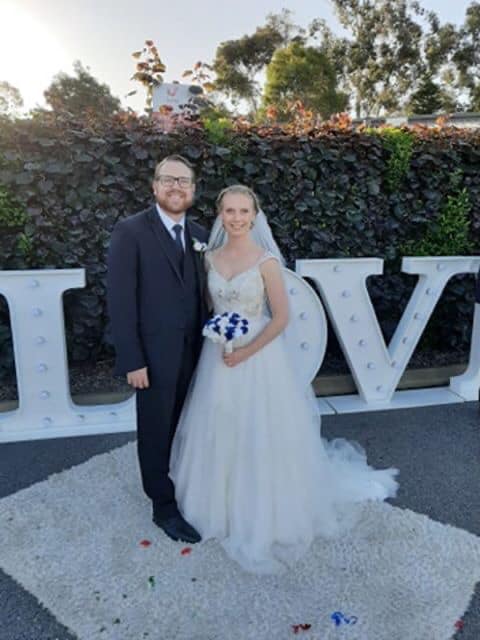 Two members of Carey Harrisdale's Class of 2015, Melissa Douglas and Jordan Harris, were married on Saturday 9 May!
Jordan and Melissa met as students of the College and started dating in Year 8. They have been heavily involved in our community throughout their lives and are both on College staff – Melissa at Harrisdale and Jordan at Forrestdale. They are also both senior leaders of Harrisdale's Oxygen Youth Group and are very involved in the work that Helping Orphans Meet Expenses do in Bali. Jordan is also the son of our wonderful Primary Chaplain at Harrisdale, Mrs Cheree Harris.
When their original wedding had to be cancelled due to COVID-19, Melissa and Jordan started thinking about how they could still get married on their original date and celebrate with their family, friends and community in a creative way.
"We wanted to keep the date of 9th May as our wedding date. It was the anniversary of when we first started dating and was a really significant date for us. We just kept on making new plans to fit in with the COVID restrictions. It ended up being a really special ceremony in my Mum's back garden, followed by a celebration drive by in the Carey Harrisdale carpark," Jordan said.
"Our favourite part of the day was being able to still share it on a Facebook live stream with family and friends who couldn't make it. Whether they were here in Perth, or watching from Sydney, Queensland, Melbourne, Broome or Bali, it felt so special to be able to share it with them all. It was especially nice to be able to share it with the children at the orphanage in Bali, where we visit regularly."
Jordan and Melissa hope to celebrate again with their families and friends when restrictions lift and borders open.
"We want to be able to celebrate with our family and friends from Perth, and interstate, as soon as we can. We will probably do a commitment ceremony and then a big party."
"We really want to thank everyone in the community who helped to make it special – whether they drove by to visit us, cooked us food, helped with decorations or wedding set-up. We honestly felt the love from the whole school community at both Harrisdale and Forrestdale. It was a really special day."
Congratulations again, Jordan and Melissa! It was such a special day and we are grateful that we could celebrate with you as a community.