Illustrator Marc McBride Visits Carey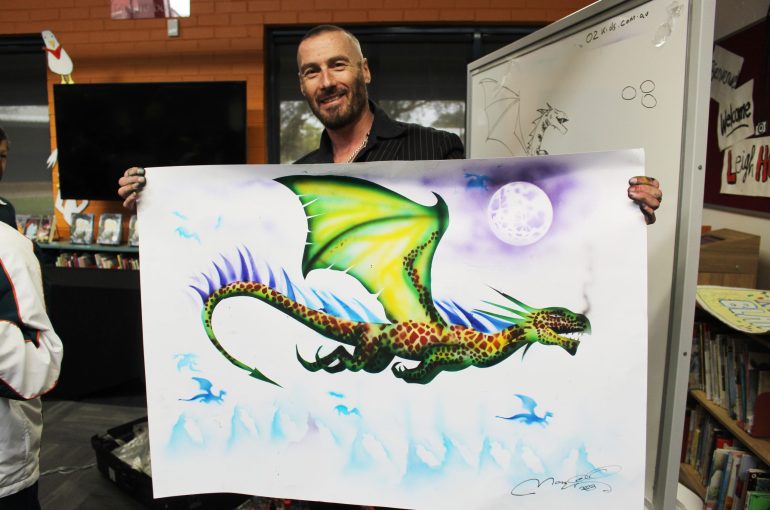 Illustrator Marc McBride visited Primary and Secondary students recently to wrap up Book Week festivities and celebrate the Carey Arts Festival.
Marc may be best known for his cover illustrations adorning the best-selling series Deltora Quest by Emily Rodda, but he has illustrated more than 200 books, including The Glimme, which was shortlisted for the 2020 CBCA Book of the Year for Younger Readers.
"I started drawing not because I was good at it, but because I was obsessed with Star Wars! But if we're always looking at other people's ideas and we don't use our imagination, then our imaginations won't grow," Marc said.
Marc worked with our Year 6 students in the Library, then with the Year 11 Visual Arts and Year 10 Graphic Design classes and returned to work with Mr Leeming's Masterclass students after school.
He talked about colour theory, light, shape, line and texture – the five elements of visual language. Students were mesmerized by his live airbrush paintings of dragons. Beginning with simple shapes, Marc guided students to create their own fantasy characters from their imaginations and told them to 'keep the mistakes'.
"Mistakes make your artwork unique and could become the inspiration for something new," he said.
Marc McBride's visit to Carey was a collaborative endeavour organised by the Library and the Secondary Visual Art Department and his books are all available for loan!